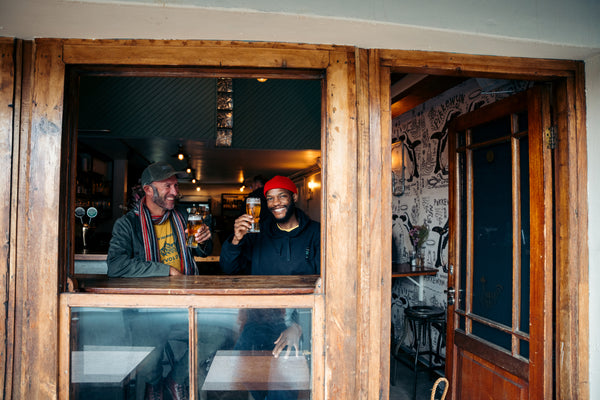 Got a question?
We might just have the answer below!
How do i place an order?

Navigate via the menu to our shop page. Select which category you would like to shop from - beer or merch. Then click on the product you would like to purchase, select your quantity and click "Add to Cart". Do this for one or more products and, when you are ready to checkout, click the basket icon at the top right of your screen, select "Checkout", then follow the onscreen prompts to place your order.
How does Local Pickup work?

Local Pickup from the home of Jack Black in Diep River, Cape Town, is now available. Orders placed between Monday - Friday before 3pm will be processed within 48 hours. Orders placed on Saturdays will only be ready for collection the following week.
Why won't my payments go through?

It could be because your payment has timed out meaning that processing has taken too long through your bank. Please try again. If the issue persists, please contact ordersonline@jackblackbeer.com and we'll get back to you as soon as we can.
Oops, I made a mistake with my order, please help!

If you've made a mistake with your order - not to worry! Drop us an email on with the details: ordersonline@jackblackbeer.com and we'll get back to you as soon as we can.
I am struggling to login to my account, what do I do?

If you're having account login issues, please get in touch by emailing us on: ordersonline@jackblackbeer.com and we'll get back to you as soon as we can.
What is your returns & refund policy?

Please see link here to view our returns and refunds policy.
Do you deliver nationwide?

Yes, we deliver nationwide.
Where in the Cape do you deliver free? 

We offer free delivery in selected areas in Cape Town. These include all areas that fall within the following postal codes:
7400 - 7599 Northern Parts of the Cape Metropole
7700 - 8099 Cape Town & Cape Peninsula
When will I get my order?

We deliver within 3-7 working days post placing an order.
Do you host private events at the Taproom?

Yes we do - drop us a message via our contact form with your event details, and we'll get back to you!
How do I go about booking a brewery tour?

Our Brewery Tours take place between Wednesday - Friday. The cost per tour is R25 and with a tasting R90. To book a tour, contact us here. Please note 48-hours' notice is required.
Is the taproom pet friendly?

Yes, we love furry friends! Please just ensure that you bring a lead along!
What about Jack Black Growlers?

Jack Black Growlers are available at our Taproom only. Our Taproom is allowed to sell growlers from Monday-Friday 11AM-6PM and Saturday from 11-5PM.
My gift card is no longer working?